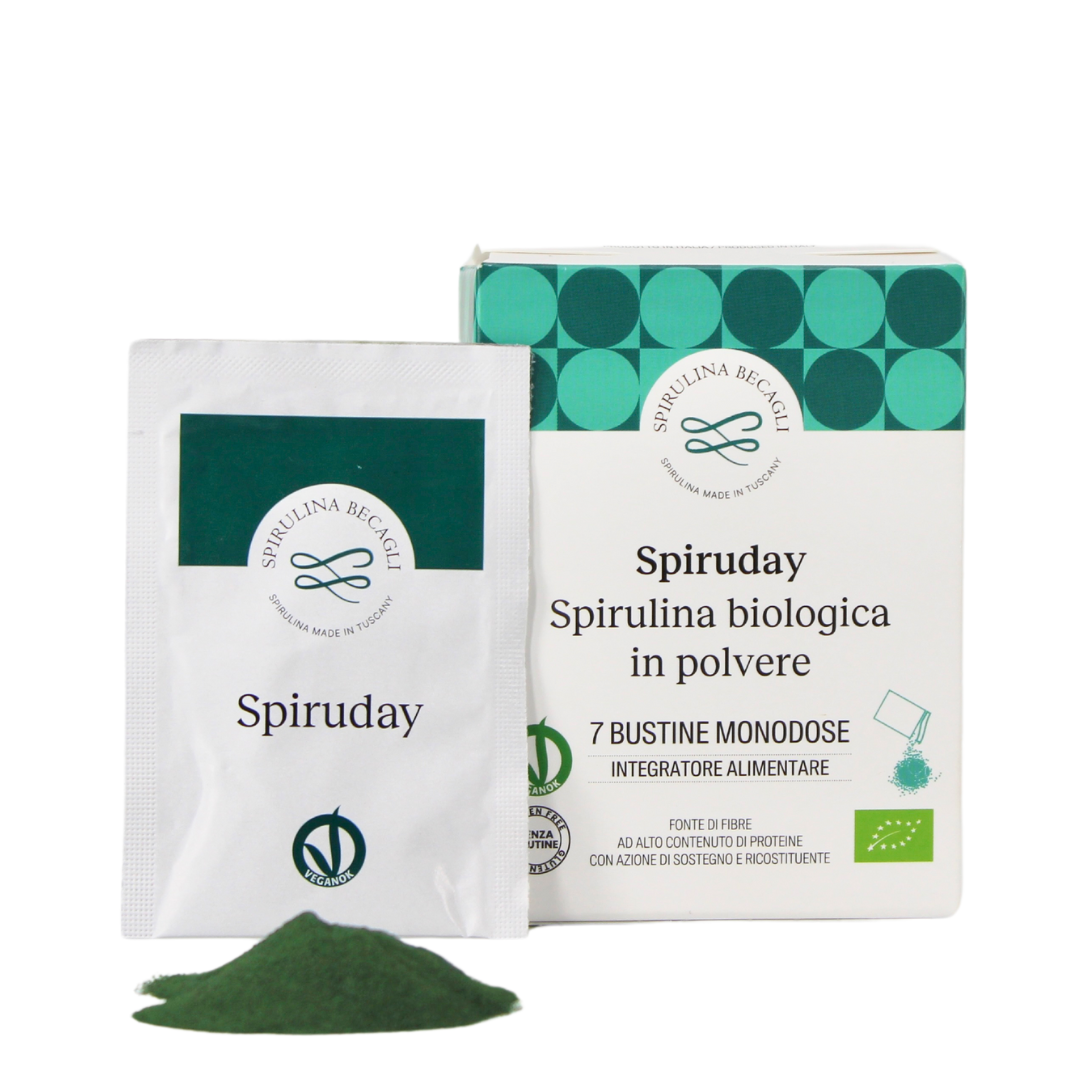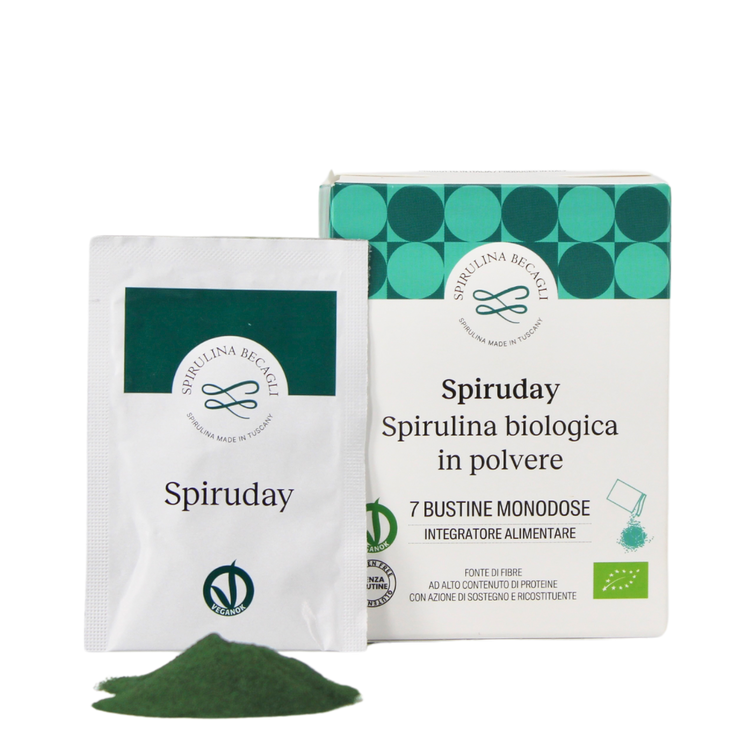 Spiruday7 - Dried spirulina powder single-dose
Regular price

€13,50

Sale price

€9,00 -

Unit price

per
Spiruday7
Dried spirulina powder single-dose
Spirulina is filtered, dried and ground to perfection, in order to preserve all the organoleptic properties. This stick format is hygienic, comfortable and very practical for daily use. Our spirulina powder to be added to fruit extracts, smoothies and drinks of all kinds.
Spirulina Biologica
Ottimo prodotto, arrivato nei tempi previsti!
What is it for

Energia

It gives energy because it is rich in easily assimilable and immediately available vegetable proteins.

Difese immunitarie

Strengthens the immune system because it is rich in vitamins A, B, D, E and K.

Detox

Detox and anti-aging effect because of it is rich in antioxidants.

Salute

It helps lower cholesterol levels and improves the health of the cardiovascular system thanks to the presence of beta-glucans.

Ferro

It supports body in case of anemia as it is naturally rich in easily bioavailable iron
How to use

The recommended dose is 3 grams per day, which correspond to one sachet per day. The optimal quantity depends on several factors, such as eating habits, lifestyle, metabolism and pre-established objectives, which vary according to the subject. For those who practice intense physical activity, the daily dose can be higher, but being careful to increase the water intake during the day. Spiruday7 contains 7 sachets and is ideal for those who want to take spirulina daily. This practical, hygienic and simple format can be used in many ways: in addition to fruit extracts and smoothies or yoghurt, as a condiment or in addition to energy drinks.
Nutritional values

Energia 1706 kJ/ 399 kcal
Certifications

100% Organic

VeganOk

Made in Tuscany
Descrizione approfondita
Spirulina Powder is a superfood that can effectively counteract tiredness and exhaustion. The high protein content provides satiating properties, useful for those who want to follow a controlled diet, without affecting the lean mass. It is a powerful food suitable for everyone, it gives a lot of energy and is particularly suitable for: – Periods of intense intellectual activity or psycho-physical stress – To fight inflammation and allergic phenomena, thanks to the gamma linolenic acid that Spirulina is rich in – Keep bad cholesterol and blood pressure under control – Integrate vegetarian and vegan diets Production and Shipping: The Spirulina collected at our plant is filtered and dried in sterile environments. The drying temperature is kept below 45 ° C in order not to compromise its quality. It is packaged in practical single-dose sticks, easy to carry with you and to use at various times of the day. Storage: Store away from direct sunlight, in a dry place and preferably consume within 36 months from the packaging date.