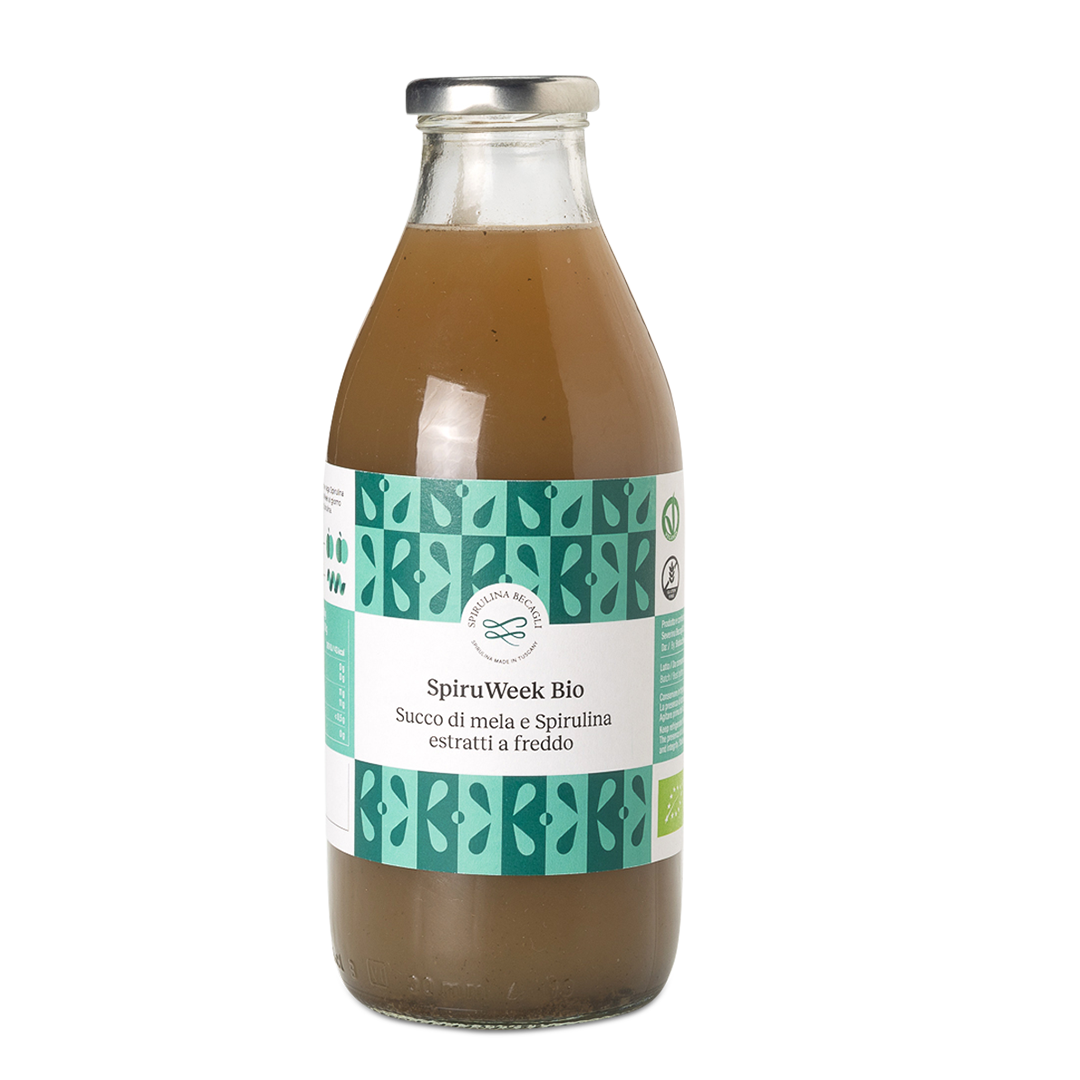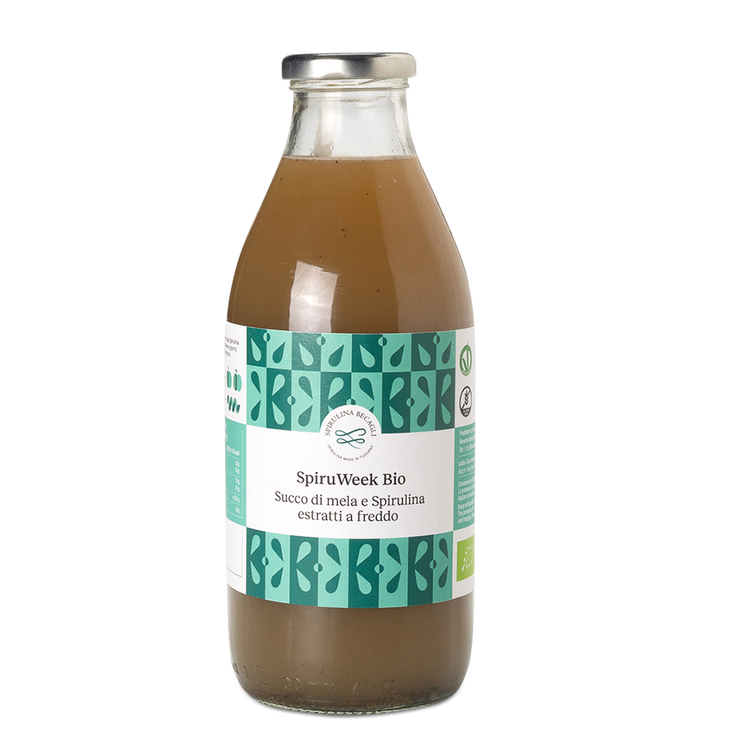 Spiruweek Bio - cold-pressed juice made with apples and Spirulina
Regular price

Sale price

€8,99 -

Unit price

per
Spiruweek is a cold-pressed juice made with tuscan apples and Spirulina.
It is not a simple juice; it's a concentration of vitamins, mineral salts and antioxidants.
This 750 ml bottle contains about 15 apples and fresh spirulina.
SpiruWeek Bio - Estratto a freddo di mela e Spirulina
What is it for

Energia

Thanks to its concentration of Calcium, Iron, Vitamin K and D)

Difese immunitarie

Thanks to the presence of Magnesium, Iron, Phycocyanin and Vitamin C

Detox

It promotes a purifying action of liver and kidney

Salute

It protects the cardiovascular system and helps regulate triglyceride and bad cholesterol levels
How to use

Drinking half a glass (100 ml) of Spiruweek per day equates to taking 2 apples and spirulina: a daily dose of well-being, produced without the addition of water and sugars. Spiruweek does not contain colorants or flavorings; it is preservative-free.
Nutritional values
Certifications

100% Organic

VeganOk

Made in Tuscany
Ingredienti

Succo di mela* 99,5%, Spirulina* 0,5%. *Da agricoltura biologica
Descrizione approfondita
Spiruweek is a cold-pressed juice made with tuscan apples and Spirulina. It is not a simple juice; it's a concentration of vitamins, mineral salts and antioxidants. This 750 ml bottle contains about 15 apples and fresh spirulina. Drinking half a glass (100 ml) of Spiruweek per day equates to taking 2 apples and spirulina: a daily dose of well-being, produced without the addition of water and sugars. Spiruweek does not contain colorants or flavorings; it is preservative-free. 100% Organic. 100% Made in Tuscany. Keep refrigerated after opening and consume within 8 days. The presence of a desposit is a symptom of the naturalness and integrity of the extract. Shake well before use to mix the product. Why drink Spiruweek? IT GIVES YOU ENERGY Thanks to the high content of protein, mineral salts and vitamins (A, B group, D, K) IT'S GOOD FOR YOUR HEART It protects the cardiovascular system and helps regulate triglyceride and bad cholesterol levels IT COUNTERACTS AGING It reduces free radicals and prevents cellular aging IT'S DETOX It promotes a purifying action of liver and kidney IT STRENGTHENS THE IMMUNE SYSTEM Thanks to the presence of Magnesium, Iron, Phycocyanin and Vitamin C IT REDUCES FATIGUE It improves the memory and helps concentration diminiscing the sense of fatigue IT MAKES BONES HEALTHY AND STRONG Thanks to its concentration of Calcium, Iron, Vitamin K and D