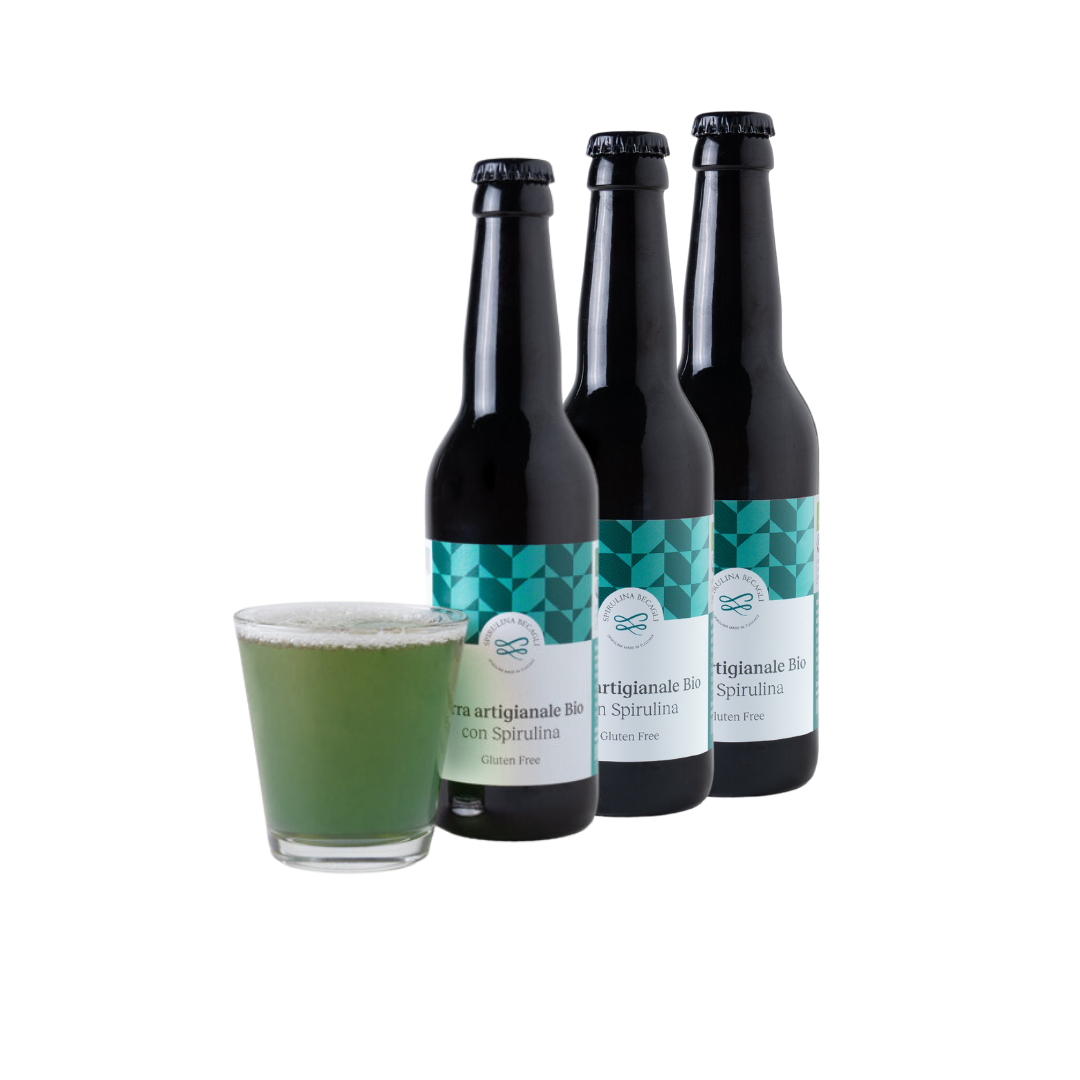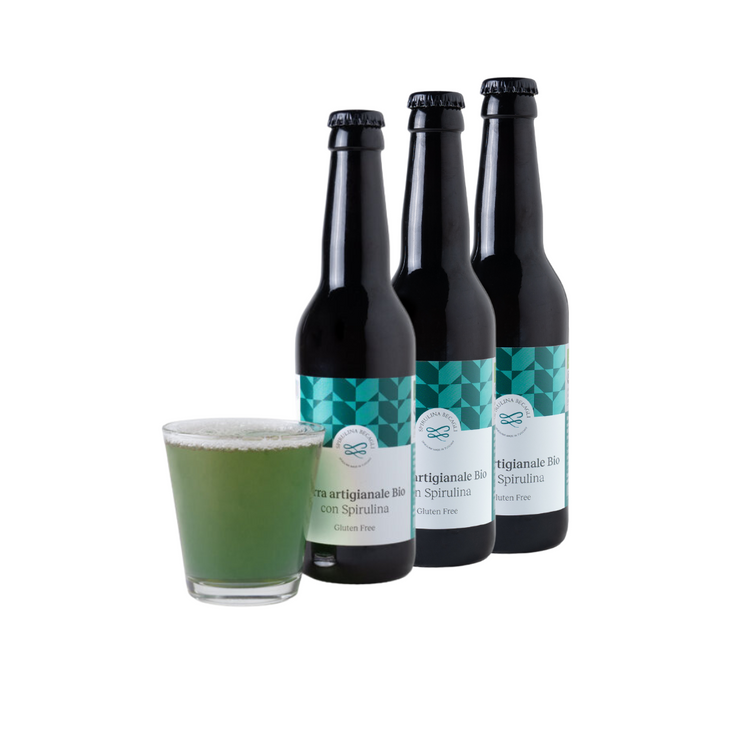 Organic Craft Beer with Spirulina
Regular price

Sale price

€14,00 -

Unit price

per
Unfiltered and unpasteurized beer, subjected to a second fermentation in the bottle.
A fruity beer, with an excellent balance between its distinctive flavor and the bitterness of the hops employed, with slight hints of honey given by the malted cereal.
The presence of Spirulina is given away by both fragrance and color. It has a fresh and clean taste and is suitable for all occasions: it can be enjoyed on its own or accompanied by sophisticated, traditional or innovative dishes.
Available only in 3 bottles-pack.
How to use

Product forbidden to children under 18 years. Drink Responsibly.
Certifications

100% Organic

Made in Tuscany
Ingredienti

Water, Barley malt*, Hops*, Spirulina* 0.3%, Yeast. *from Organic farming
Descrizione approfondita
The organic craft beer with Spirulina Severino Becagli is produced by an agricultural brewery located in the charming territory of the Crete Senesi, where the cultivation of cereals has deep historical roots. A distinctive element of the agricultural brewery, the first to have obtained the organic certification in Tuscany, is the care of every single moment of the process, from the cultivation of precious and ancient varieties of cereals, to the selection of hops, up to bottling. Organic beer with spirulina is made following traditional recipes and without the addition of preservatives, flavorings and chemical additives. Through the organic method, in fact, cereals maintain their characteristics and guarantee multiple benefits, respecting the environment and protecting our health. Our beer undergoes two fermentations: one in stainless steel and the next in the bottle, in order to preserve the nutritional and organoleptic properties of the final product. The result is a "raw" beer, unfiltered and unpasteurized that comes with a compact and persistent foam; a fruity beer, balanced between the body and bitterness of hops, with slight hints of honey given by the malty cereal. It is perceived the presence of spirulina on the nose that is reinforced by the visual impact of the green color characteristic of the algae. It has a fresh and clean taste and is suitable for all occasions: it can be enjoyed alone or accompanied by refined, traditional or innovative dishes. The slight turbidity or any sediment on the bottom are characteristic of the handmade product and do not affect the quality and taste. The product may be subject to color variations that do not alter its properties. Craft beer with Spirulina Severino Becagli is a drink that combines a unique taste with the benefits of spirulina algae. How to pour beer: Slowly rotate the bottle to allow natural deposits on the bottom to mix. Open the bottle and pour the beer by sliding it over the top of the glass (slightly inclined, about 45 inches). Pour the beer into the middle of the glass, tilt the glass vertically when it reaches the middle and finish pouring by holding it vertically, creating a uniform layer of foam.